* Patience is to virtue, as happiness is to ______________.
How would you fill in that blank?
Philosophy : Patience and Happiness Are Not the Same
I work at home; and often feel as if I live in the Dark Ages. A typical "happy day" at my house? Wake up. On my laptop from sun up to sun down. In between, break for lunch. While chowing down, I ...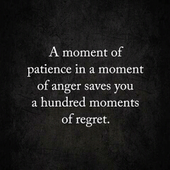 a moment of patience in a moment of anger saves you hundreds moment of regrets