Grant R. Jeffrey (1948 - 2012) was and still is a respected American writer who authored several best-selling books.
In this book, he presents the argument that when someone places their signature on something, that's basically "proof" of its authenticity or genuineness. Following that logic, Jeffrey puts forth that we can know that the Bible is God's inspired Word and was written by Him because ... God signed it! Think he can convince you?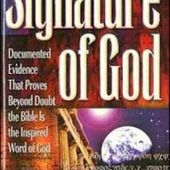 Book Review: The Signature of God
Despite unrelenting attempts to destroy "the Book of Books ", over a period of thousands of years by authorities, apostates, atheists, and a host of other assailants, it is still the most widely ...
http://hubpages.com/literature/Book-Review-The-Signature-of-God