Translation:
US President Barack Obama and Cuban President Raul Castro meet Saturday (April 11th) on the sidelines of the Summit of the Americas in Panama for a historic meeting that will mark a decisive step in the rapprochement between the two countries.
*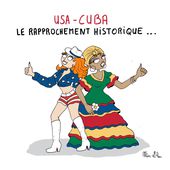 USA-CUBA : LE RAPPROCHEMENT HISTORIQUE !
Les présidents américain Barack Obama et cubain Raul Castro se retrouvent samedi 11 avril en marge du Sommet des Amériques au Panama pour une rencontre historique qui marquera une étape décisive dans le rapprochement entre les deux pays.
http://dessinsmisslilou.over-blog.com/2015/04/usa-cuba-le-rapprochement-historique.html